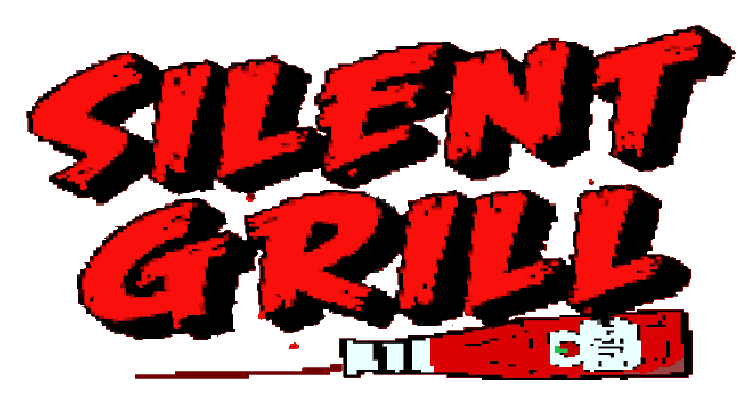 Silent grill
A downloadable Silent grill for Windows
Description
Prepare the craziest hamburguers at the restaurant Silent Grill! Using nothing but your bravery, speedness and enviable aim. Defend your fast - food restaurant against enemies like hunger or getting fired. A bunch of stupid guys present you a new game mixing their favourites things: guns and afterlife-hamburguers!
Control
Mouse:
Move the camera
Click: pick an item/ shoot
Keyboard:
WASD: move!
Escape: exit the game
F11: fullscreen
Features:

A mix of old good shooters and cooking games
An unique retro style!
Feel yourself a cheff making the special hamburguers that your clients ask specifically for
Live the teenager dream! Prepare fast-food earning 2 dollars per hour.
Try a new job, a new experience!
Authors

HypercubeCore
LadyHappy
Nayruu
Skyscrapper
Follow us in 🐤 Twitterto know all the updates!

Lady happy,
(~ ̄▽ ̄)~Thanks!! ♥

P.S: We are working really hard to update the game as soon as possible! With new characters, objects, surprises... If there is any kind of problem or glitch, please do inform us in the comments!
Download
Click download now to get access to the following files:
Comments
Log in with itch.io to leave a comment.
I made a video on this game a while back. Great game!!
I had no idea what I was expecting but I was pleasantly surprised! Great game!
Thanks againn!!!!!!! Your youtube channel rocks!! We do love your videos and we hope that you will like the updates for the game!
Keep it up!
Lady happy,
(~ ̄▽ ̄)~Thanks!! ♥
This game is so good, who thought a burger flipping sim would be so intense! Impatient customers, uncooked meat (oops) and zombies, all in the space of a five-minute ride? Amazing stuff!
Honestly, this concept is so simple yet executed so well, I think it would be awesome to have a level-based system where you have to meet certain achievements to pass (feed 5 people, kill 5 zombies, no more than 5 casualties and so on). Don't know if you were looking to expand upon the initial idea but I'd definitely invest a lot of time into a more fleshed-out (or rotten, diseased and dying fleshed-out) version!
Whatever you decide to do going forward, keep up the awesome work, this was a blast =)
Thank you so much for your video and your comment!! You are really kind. We loved your reactions and we are sorry if it wasnt clear that you have to cook the burgers (you are not the first one who made the same mistake) Sorry againg! We are going to make some updates to the game (first we are going to fix the bugs and then we are going to add new characters and surprises) We think that It is a great idea to add some achievements and we are going to think deeply that idea.
Thank you so much for your video, your comment and your feedback we do appreciate it! Your youtube channel rock!
Lady happy,
(~ ̄▽ ̄)~Thanks!! ♥